Enjoy some quality time (and tackle boredom!) with your favorite four legged friend this Spring! PlayTime Pet Sitters has compiled a list of all of our favorite dog friendly trails in Colorado Springs for you to explore! Happy tails and trails!
Garden of the Gods Dogs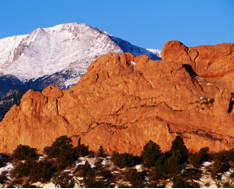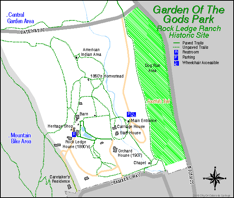 Location: 3130 N. 30th St., Colorado Springs
Operating Hours: Nov-April 5am -9pm, May to Oct 5am-11pm
Managed By: City of Colorado Springs
Call: (719) 385-2489
Type of Park: Not Fenced
Parking: Near 31st & Chambers Way. It's a short walk, but with amazing views!
Other Notes: Unfenced – off leash dog area is east of Rock Ledge Ranch & south of Gateway Rd.
This park is rather small and does parallel 30th, which can be busy. There are some nice trails and you can go on leash to view the Rock Ledge Historic Ranch. The backdrop of Garden of the Gods is amazing! Bring your own doggie bags. This park is very well kept.
This park is probably only for the exceptionally well trained dog, since there are no fences to prevent dogs from running out of the dog park area. The evening we went, they were unloading tour buses to tour the small museum that shares the same parking lot.
Fox Run Regional Park
https://communityservices.elpasoco.com/parks-and-recreation/fox-run-regional-park/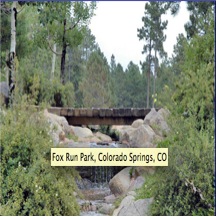 Dog Friendliness: Dogs are welcome. Leash Recommended
Traffic: Unknown
Canine Swimming: Unknown
Phone Number: (719) 520-6375
Admission Fee: None
Directions: Off the I-25, take the Gleneagle/North Gate Blvd exit (exit 156) and go east toward the Mining Museum. You can either take a left on OLD North Gate Road (before Discovery Canyon School) and another left on Roller Coaster Road. Or you can just catch Roller Coaster Road from North Gate Boulevard. [Don't get confused between OLD North Gate Road and North Gate Boulevard. Two entirely different streets!] Entrances to play areas are off Stella or Roller Coaster.
Fox Run Regional Park is a huge park in a nowhere-land between Briargate and Black Forest. Reaching it by Roller Coaster Road is half the fun! It's an amazing place for fall photos with Pikes Peak towering in the background.
Seven Falls
https://www.pikes-peak.com/attractions/seven-falls/
Dog Friendliness: Dogs allowed on trails if on leash.
Traffic: High during tourist season
Canine Swimming: Unknown
Call: (719) 632-0765
Admission Fee: Humans – Yes, Dogs – No
Location: 2850 S Cheyenne Rd. Colorado Springs,
 Colorado 80906
The park is open all year round and features a waterfall with hiking trails and picnic areas. There are 200 plus steps up to the viewing station at the waterfall or you and your dog can take the elevator. There is a fee for people but dogs are free. You must clean up after your pets. The park is located about 15 minutes from downtown Colorado Springs and is at a very high altitude in the Rockies.
https://www.playtimepetsitters.com/wp-content/uploads/2018/03/DogHiking1.jpg
588
882
playtimeadmin
https://www.playtimepetsitters.com/wp-content/uploads/2021/02/playtime-pet-sitters-and-dog-walkers-of-colorado-springs-3-1-e1613867886819.png
playtimeadmin
2018-03-24 13:57:30
2020-03-30 18:51:43
Dog Friendly Hiking (Leash Required)