We interviewed several dogs for this article, and the general consensus was….DOG PARKS IN COLORADO SPRINGS ARE PAWSOME! Fresh air, running free with friends, and so much PLAYTIME…what could be better?
Bear Creek Dog Park
https://www.visitcos.com/directory/bear-creek-dog-park/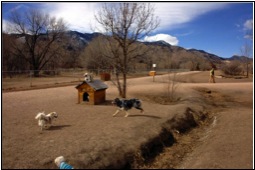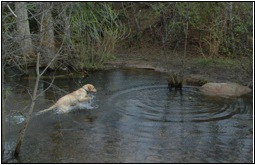 Location: 21st St and Rio Grande, Colorado Springs
Managed By: El Paso County and LOOP (Lovers of Off-leash Parks).
Call: (719)-520-7529
Restrooms: Portable restrooms
Park Size: 25 acres
Type of Park: Fenced
This park encompasses approximately 25 acres and is fenced on all sides. Bear Creek runs along the south side. Dogs may enjoy a drink from the mountain creek or go for splash.
It also has a Small Dog Area that is completely fenced with two double-entry vesitbules to protect small dogs from the larger ones. It is just under two acres and is adjacent to Bear Creek with steps and a handrail leading to the creek.
Bear Creek Dog Park is located in the foothills of the Rocky Mountains and the base of Pikes Peak with an elevation change of at least 100 feet going from the north boundary to the south boundary. The terrain provide dogs and their owners a variety of exercise options.
Ammenities in the Bear Creek Dog Park include:
8 bag dispensers and 9 trash cans
3 benches and several log resting places
The main trail is three quarters of a mile which makes a loop around the park
Several social trails
4 access points into the park
2 double-entry vesitbules into the Small Dog Area
Donated ball dispenser
Collection point for donated dispenser bags
Information kiosk with two sides, one side for the Parks Department and one side for the park users
2 picnic tables
New dog house for donated balls
Rampart Dog Park 
https://www.bringfido.com/attraction/3312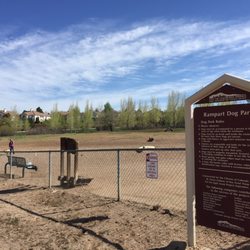 Location: 8270 Lexington Dr and Union, Colorado Springs, just east of the baseball diamond
Operating Hours: Nov-April 5am -9pm, May to Oct 5am-11pm
Managed By: City of Colorado Springs
Type of Park: Fenced
Other Notes: Water spigots, shade, fenced, benches, trees, parking, disposal bags, water, trash cans. Access for the disabled.
Directions: From the intersection of Lexington Drive and N. Union Boulevard, go north on Lexington, then turn left into the park entrance.
This a large, fully-fenced off-leash dog park. Includes water spigots (so your dog can keep cool), mulch hills and benches for you to sit while your furry friends have fun. This popular park within Rampart Park is large and flat, with fun agility obstacles built into the landscape.
Palmer Park Dog Park
https://gopalmerpark.org/2016/10/your-dog-in-palmer-park/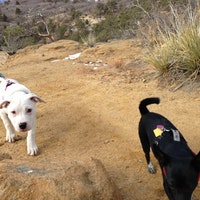 Location: 3650 Maizeland Rd, Colorado Springs
Managed By: City of Colorado Springs
Call: (719) 385-2489
Type of Park: Fenced
Other Notes:
There is drinking water in the summer but be sure to bring water in the winter for your dog.
A fenced in softball field that has a special entrance. Open one gate, close, then open another gate that actually goes into park. It has bags for pick-ups, and benches for owners. Also has human water fountain with dog bowl fountain on the side. Anywhere from 10-50 dogs running and playing together at one time. There are many different entrances, easiest is go south on Acadamy to Maizeland, take a right, then take a right into the entrance of Palmer Park (about one block), then go about one more block and Dog Park is on your right. Yucca Flats- Hiking area where dogs are allowed off leash if kept under control.
Cheyenne Meadows Dog Park
https://www.bringfido.com/attraction/2138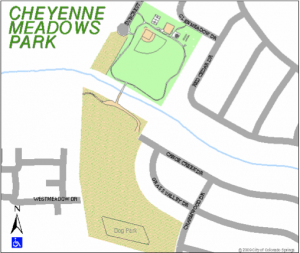 Location: Canoe Creek and Charmwood, Colorado Springs
Managed By: City of Colorado Springs
Type of Park: Fenced
This is a pretty small park without all the bells and whistles. It's simply a fenced in area next to a school playground There are no trees or rivers or anything fancy, but it is completely fenced. It is nice for letting your pup off leash to run and run and run – in safety.
Did you know that PlayTime Pet Sitters offers Doggie Park Field Trips to any of these wonderful parks? Call us today at 475-PAWS to learn more!
https://www.playtimepetsitters.com/wp-content/uploads/2018/03/February-newsletter-Cover-Photo.jpg
717
1080
playtimeadmin
https://www.playtimepetsitters.com/wp-content/uploads/2021/02/playtime-pet-sitters-and-dog-walkers-of-colorado-springs-3-1-e1613867886819.png
playtimeadmin
2018-03-24 16:12:53
2022-01-10 17:26:05
Dog Friendly Parks (Fenced, Off Leash)