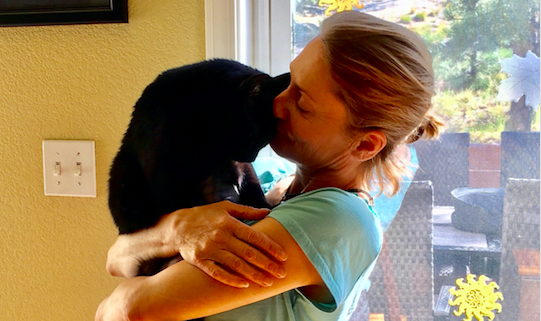 Not only is Susan McIntyre, owner of PlayTime Pet Sitters & Dog Walkers, an inspirational business woman, she's also pretty darn funny. We had a quick catch-up to find out a little more about the heart behind the most trusted pet sitting and dog walking business in Colorado Springs.
What do most people not know about you?
Though I've developed a slight fear of heights as I've grown older, I still enjoy skiing, flying in ultralight planes, skydiving and parasailing. Anything really that involves extreme heights. Go figure!
What scared you most about starting your own business?
Not being able to support myself. I had no safety net. I was recently divorced, prior to which, I'd also given up a career in management to go back to school.
What are some of your greatest triumphs since starting PlayTime Pet Sitters & Dog Walkers?
That I am still here; that PlayTime has survived over 20 years. Pet sitting and dog walking businesses come and go quickly, but we are still providing quality care to so many animals and their people—after all this time! We've been able to help a vast amount of animals through supporting incredible rescue organizations, and have diligently gained the trust of numerous special needs animals, too.
What do you love most about what you do?
We make a difference—to animals and their people.
What would your 8-year old self say if she met you now?
This is the best you could do? We were going to save all the animals. We were at least going set all the caged ones free!
We've got to know, if you could be any animal what would it be?
Cat. Always a cat. But if cat wasn't available I would go with elephant or bison. Assuming mammoth isn't an option.
What should all new and potential clients know about PlayTime Pet Sitters & Dog Walkers?
We are good people. We really care about your animals and have every pet's best interest at heart. So many animal-related businesses don't.  This isn't just a job for us. Our lives revolve around caring for animals. We take a tailored approach with each and every pet we sit for, which is why we ask all clients to fill out a lengthy questionnaire. Our sole aim is to care for your animals exactly as they need, with respect and excellence.
Visit us at: www.playtimepetsitters.com
https://www.playtimepetsitters.com/wp-content/uploads/2018/04/Screen-Shot-2018-04-10-at-8.46.42-am.png
440
541
playtimeadmin
https://www.playtimepetsitters.com/wp-content/uploads/2021/02/playtime-pet-sitters-and-dog-walkers-of-colorado-springs-3-1-e1613867886819.png
playtimeadmin
2018-05-04 23:02:56
2021-02-10 18:11:43
Meet the Chief Tummy Rub Officer!