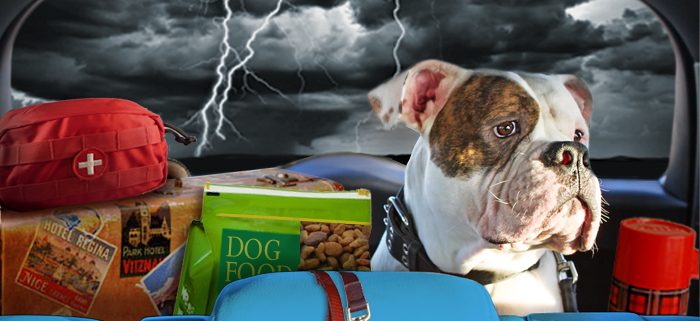 Many of us have protocol set in place for an emergency, whether at home or at work. However, have you prepared your pet for an emergency situation as well? Colorado is no stranger to extreme weather, ranging from blizzards to wildfires, and all in between. Our goal at PlayTime Pet Sitters and Dog Walkers is to keep your pet safe, whether in your care or ours.
Here are our top preparation tips to ensure your pet's well being during an emergency situation:
Prepare a Pet Emergency Wellness Bag
Take everything your pet may need in the event that you have to evacuate your home or travel unexpectedly…and keep it in an easy to grab location. This bag should include a 2 week supply of any medication your pet is currently on, extra food and water (and treats!), a copy of veterinary records, blankets, and any microchip identification information. Having a small toy or bed for comfort is always a smart idea as well. If you have a feline friend, make sure to have a litter box and litter available as well for an emergency situation. If you have a travel crate for your pet, it is a smart idea to keep this in your car if it becomes necessary.
Let Emergency Personnel Know Your Pet is Safe 
A card or sticker placed in the front window of your home can alert emergency personnel of how many pets are in your home, and let them know what to look for (cats, dogs, birds, bunnies, etc.). PlayTime Pet Sitters and Dog Walkers keeps stock of these cards, and hands them out as part of your introductory packet. In case of evacuation, pack your pets up in the car with their emergency wellness bag, and write "EVACUATED" on the card to make emergency personnel aware.
Choose Your Designated Caregiver
And keep this information handy in your wallet. PlayTime Pet Sitters and Dog Walkers hands out cards for you to keep in your wallet in case of an emergency. This card will alert emergency personnel that you have pets at home, and direct them to call us to ensure your pet's are cared for. Your caregiver should have a tested copy of your house key and any alarm codes, if necessary.
Research Pet Friendly Hotels
Having a plan in an emergency situation is key. Make a list of pet friendly hotels in the Colorado Springs area, and keep it in your Pet Emergency Wellness Bag. NEVER leave your pets behind in the event of an evacuation. If it isn't safe for you, it is NOT safe for your pets.
Learn Pet C.P.R. (and what to do in a choking incident) 
Knowing how to perform pet C.P.R and how to handle a choking emergency is an essential part of pet ownership. Emergency veterinary personnel may not be readily available during a natural disaster, and time is always of the essence when it comes to CPR and choking incidents. Keep your pets safe by educating yourself on emergency situations:
To learn the basics of Pet CPR, the Red Cross provides detailed information and offers an online course here: https://www.redcross.org/take-a-class/cpr/performing-cpr/pet-cpr
For information on how to handle a choking emergency, PetMD offers an instructional outline and video here: https://www.petmd.com/dog/emergency/common-emergencies/e_dg_choking
https://www.playtimepetsitters.com/wp-content/uploads/2018/05/Emergency-Preparedness.jpg
446
700
playtimeadmin
https://www.playtimepetsitters.com/wp-content/uploads/2021/02/playtime-pet-sitters-and-dog-walkers-of-colorado-springs-3-1-e1613867886819.png
playtimeadmin
2018-05-27 12:59:53
2020-03-29 07:46:50
Emergency Preparation..and your pet