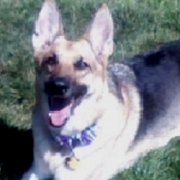 "PlayTime Pet Sitters takes me to Bear Creek Dog Park twice a week while mom is working long hours. I LOVE IT! I get to run, chase tennis balls, sniff other dogs, and splash in the creek. Susan says it's good exercise for me since I don't have a yard. What is 'exercise'?"
– Dori
"Come rain, snow or shine, I get my walks……truth be known, I prefer shine" ….Conrad speaking of course! Thanks to Susan…Conrad doesn't have to miss a walk of sniffs and smells because he gets just that 12 months a year because he has the best dog sitter around….Susan, thanks so much for all you do to keep Conrad fit !!! 🙂
– Conrad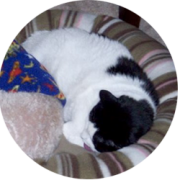 "Howdy everyone! Sydney Kitty here on behalf of the other Petite Pets-Zach the Mini Poodle and Lexie the Partial Pug. We just wanted to tell you how much we love our pet sitter Susan.  She is the best in Colorado Springs and we've been through a few petsitters!  She came over to our house to meet us and wasn't scared off by Mom's four-page list of instructions on how to take care of us. She comes by every weekday to play with us (and take my doggie brother and sister potty) because Mom has to work long days sometimes.  We have so much fun with her!  I like her because she loves to brush me and she does it way better than Mom does.
Anyway, we hope your pet parents are smart like our Mom and choose PlayTime Pet Sitters.  That way you can be as happy as we are."
– Jessica, Zach, Sydney, & Lexie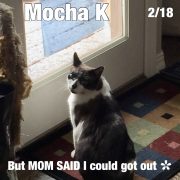 Hi from Mocha kitty, I look forward to the visits from my Playtime Petsetters when Mom and Dad are out of town. They always come on time and make sure my bowls are full, water is replenished and I also get my meds( Ugh I hate those). They also give me treats , brush my hair which I love and play with me. Thank you for being reliable so my mom & dad don't have to worry about me. I wish all fur babies had such great pet sitters.
-Mocha